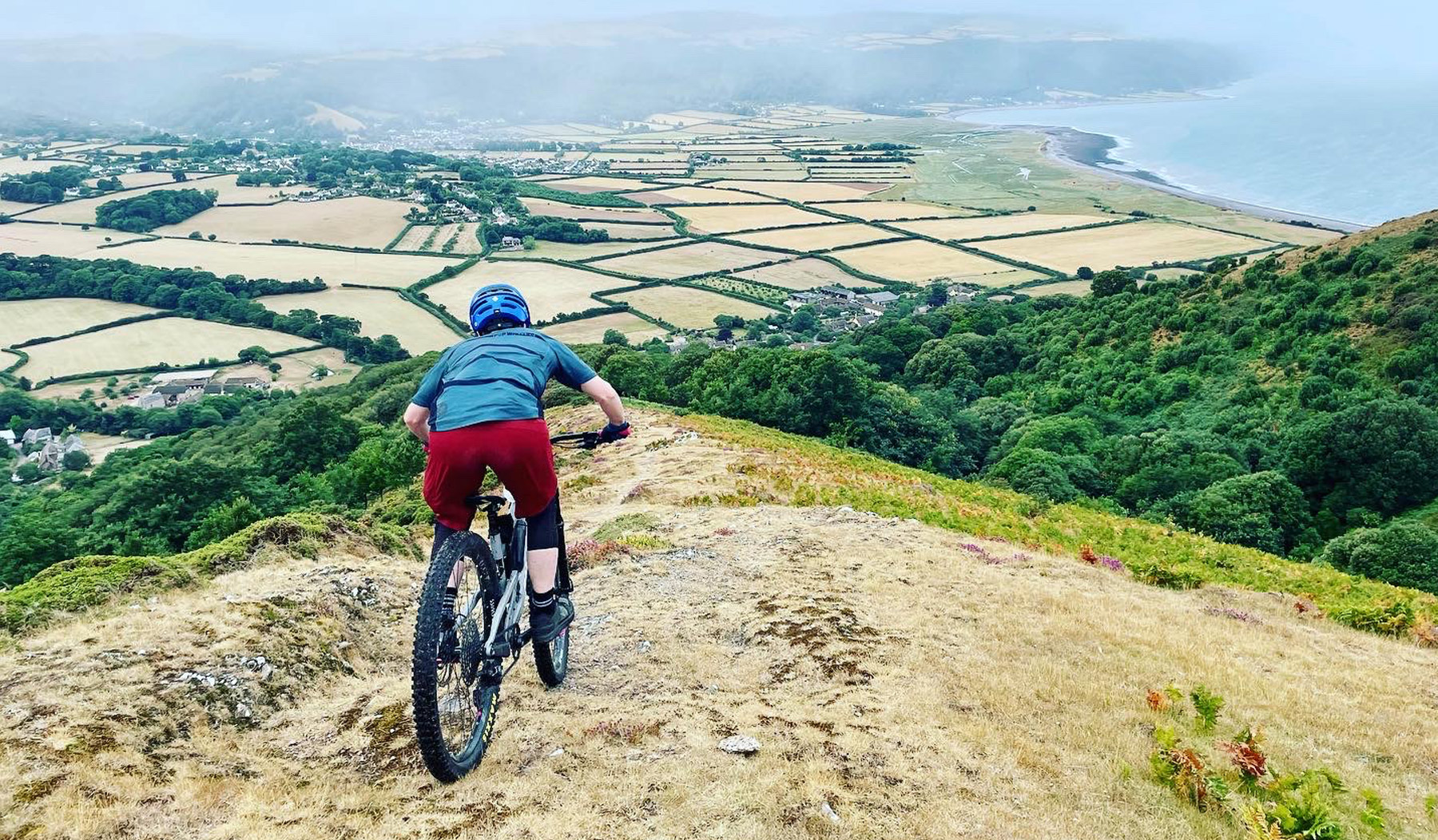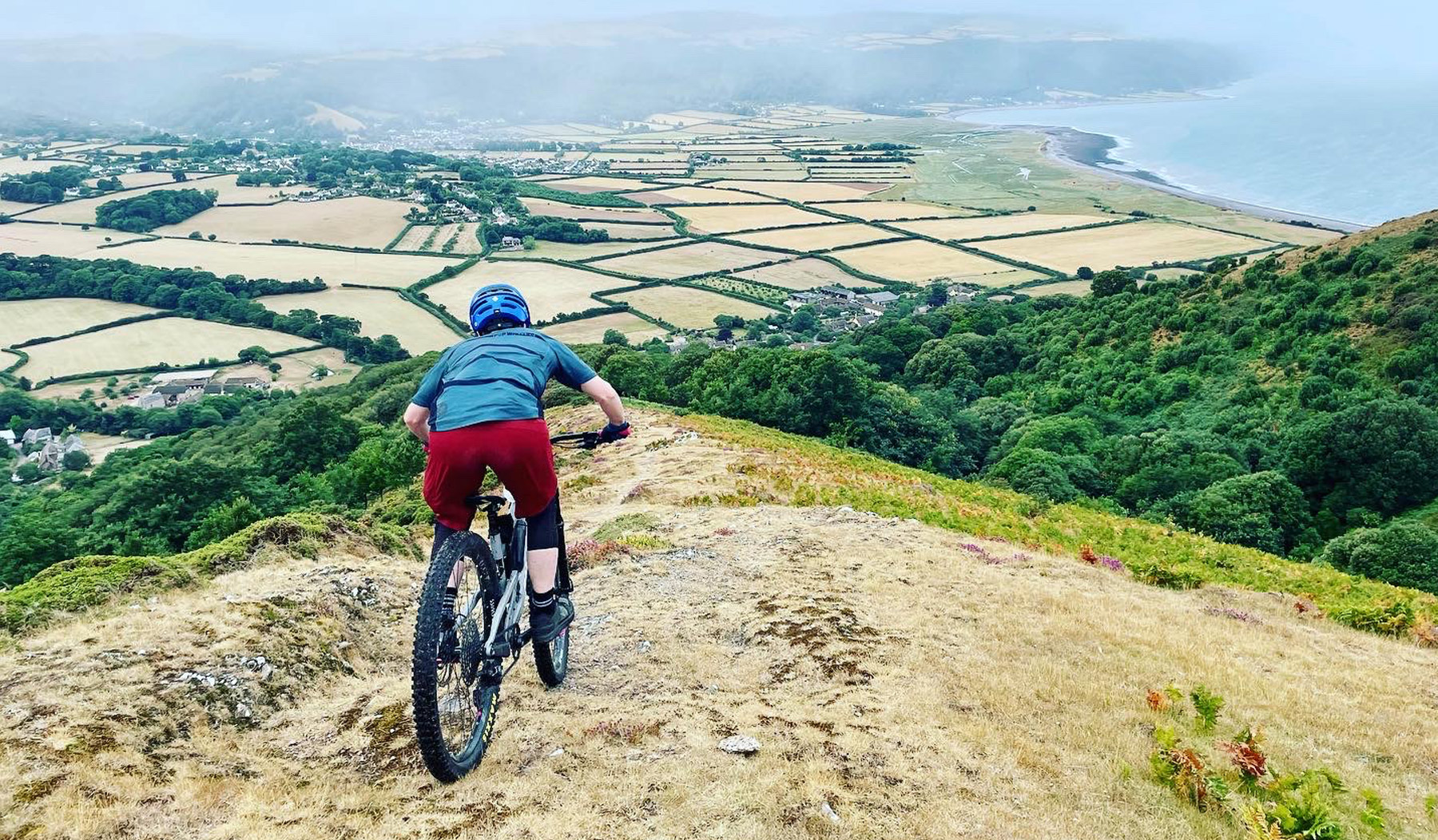 Professional guiding
Luxury camping
All breakfasts
Saturday Night BBQ
£445 for 3 days
50% deposit secures your place. Balance payable 6 weeks before your holiday.
Toughness Rating:
8 out of 10

The beautiful and unique thing about Exmoor as a place to ride a bike is that it's highest point, Dunkery Beacon, at 512m above sea level, is only 7km from the sea as the crow flies. As your Mountain Bike flies, the sea is that flat sparkly thing, 512m below you down a vast choice of fantastic ribbons of singletrack. On your long weekend, we will show you at least three different descents from summit to sea on each day, all in breathtaking scenery. Perfect!
And this small corner of Exmoor is fast gaining a reputation from the mountain biking press for its superb Enduro potential. We will show you the best loamy, drifty lines from the 4 steep hills that surround our basecamp. The inaugural EX Enduro race, sponsored by DMR bikes, was held here in 2016. It garnered such glowing reports and was THE place to race Enduro in September 2017.
Your WildBike Enduro BaseCamp
The perfection of this Exmoor mountain biking holiday continues with the accommodation! We will set up our luxury basecamp in a superb campsite in a gloriously sheltered position right at the foot of the trails. With no exaggeration, we will ride straight off the trails and into the back gate of our campsite. So the luxury of our SoulPad chill out tent, complete with carpets, heating, music, comfy seating and hearty snacks will always be right at hand. The showers and toilets even have underfloor heating!
We are also a few hundred metres from 2 excellent teashops and a short pedal from the village pub.
» Read more details on the luxury camping set-up
What's included in this Exmoor MTB Holiday?
3 days guided riding by qualified guides in small groups (depending on how long you are staying)
3 nights luxury WildBike BaseCamp accommodation with SoulPad common room and quality mountain tents for sleeping
Saturday evening BBQ, weather permitting
3 hearty breakfasts
Optional transfer from and to Taunton railway station
Coffees, teas, wine and beer
Oost-ride cakes
Support of our MTB race van
Bikewash, secure lock-up and mechanical support
Some Soul! Campfires, fresh coffee, homemade cakes…
The short answer is, if you're training for an Enduro race, or even if you're vaguely thinking about it – perfect!
The riding on this Exmoor guided MTB holiday ranges from very fast flowing narrow singletrack to occasionally rooty, loose, rocky sections which are sometimes steep. There are several stream crossings. There are no big drops and no gaps! Technically, the trails on this weekend would generally equate to trail centre red runs, but are less predictable as they are natural trails and are often much steeper. To keep the Enduro ethos, we ride back to the top on interesting and varied trails, which is generally about an hour to an hour and a half of effort each climb. So a good level of fitness is required.
Yes. Please see our policy on e-bikes and after booking please let us know if you will be riding an e-bike.
For reference and as a guide, our base near Porlock on Exmoor is 3 hours drive from the M25, 3 hours drive from the M42 around Birmingham and an hour and a half from Bristol.
As part of our commitment to green travel, we offer a FREE pick-up and drop-off service from and to Taunton railway station.
After booking, your joining details will be sent to you 6 weeks before your holiday begins.
Dates
We are pleased to say that 2024 bookings are now in full swing! Click 'book' on the booking form to view the live number of spaces available for this trip.
Arrival evening of Thursday 13th June 2024 with riding Friday to Sunday.