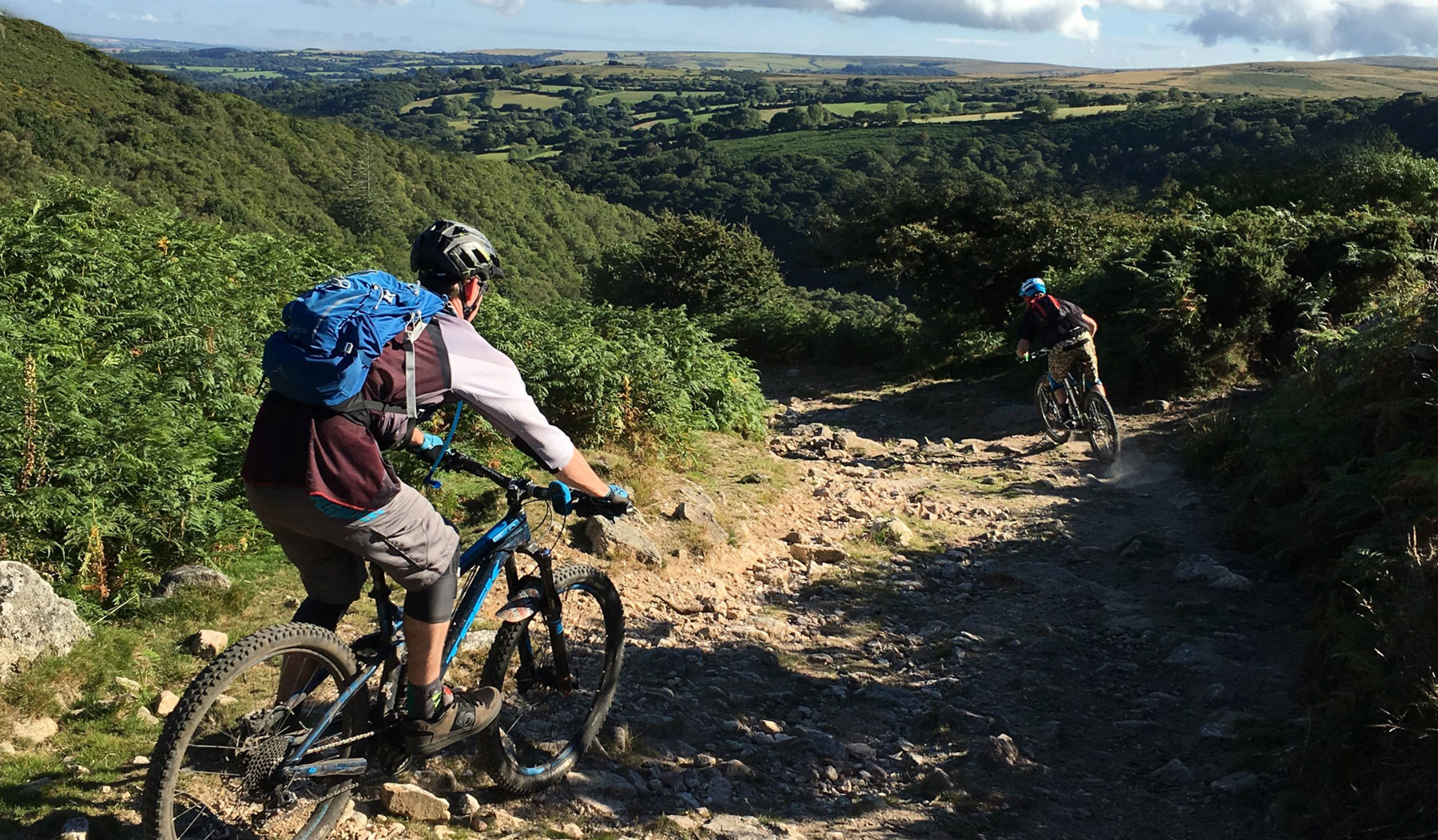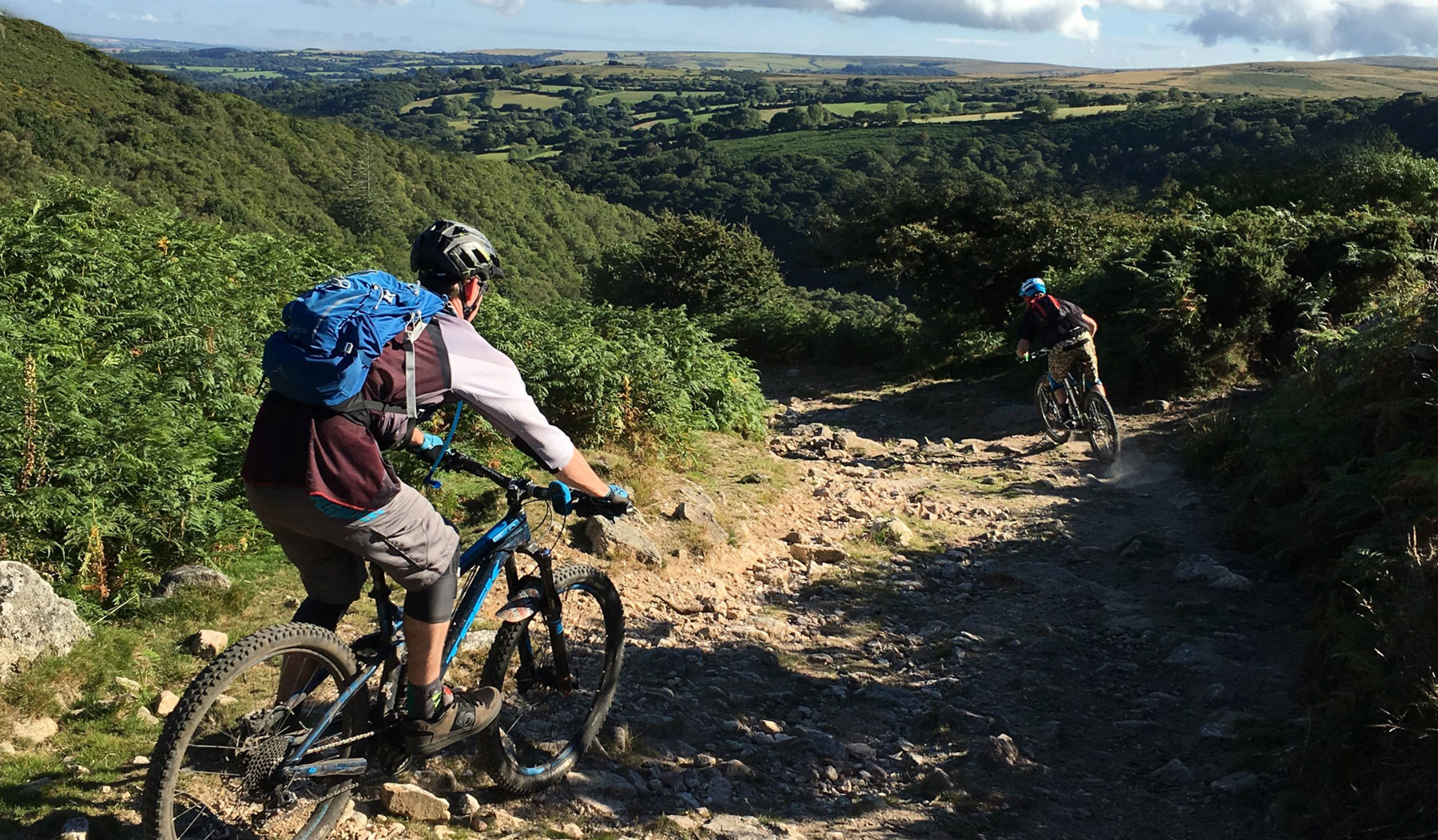 Professional guiding
Private bunkhouse
All breakfasts
Saturday Night BBQ
£445 for 3 days
50% deposit secures your place. Balance payable 6 weeks before your holiday.
Toughness Rating:
7 out of 10

Dartmoor is the most atmospheric of National Parks. The views are always huge and the skyline peppered with iconic towers of granite – the famous Tors of Dartmoor. Evidence of ancient civilizations is everywhere: remains of mediaeval villages and tin mines, huge stone crosses and menhirs abound.
Not only is the landscape unique and interesting, the mountain biking is awesome. The variety of riding is astonishing! From some relatively smooth and level ancient tramways of the Western Moor to the roughest granite rock gardens plummeting into the valleys around Hound Tor, and everything else in between.
We first took our virgin MTB wheels onto Dartmoor in 1988 and we've been regular riders here ever since. We go out of our way to find the hidden gems!
Dartmoor is not quite such a challenge to your fitness as some of our other holidays, but the occasional nadgery gnarliness more than compensates. Ideal for mixed ability groups!
Your Dartmoor Wild Trails Accommodation
Oh yes! Without doubt the best bunkhouse on Dartmoor, slap bang in the middle of the MTB action. On this Dartmoor mountain biking holiday, our hosts pride themselves on running an establishment perfect for all of Dartmoor's outdoor adventures. So there are plenty of hot showers, a cosy lounge with woodburning stove, 4 separate bunkrooms to facilitate snore-dodging, a drying room and somewhere safe to lock up your pride and joy.
The setting is wonderfully peaceful and remote but just a short WildBike shuttle from 2 great pubs!
What's included in this Dartmoor MTB Holiday?
3 days guided riding by qualified guides in small groups
3 nights private bunkhouse accommodation
A Saturday night barbecue, weather permitting
Hearty breakfasts
Coffees and teas
Post–ride cream teas or cakes
Support of our MTB race van
Bikewash, secure lock-up and mechanical support
Some Soul! Fresh coffee, homemade cakes, great music, river swimming…
Almost certainly! Dartmoor really does offer something for everyone. Whatever your favourite type of wild trail, it's all here; whether that be exposed high moorland doubletrack with awesome views, relaxed riding on disused mining tramways or the more technical challenges of boulder-strewn singletrack – we will find it for you on this Dartmoor guided MTB holiday! Any technical riding challenges on Dartmoor are short and sweet, so you have the option to avoid them, session them to find the perfect line, or get some expert coaching – whatever, they are not a great focus of this holiday! It's more about riding mixed terrain in a wonderful landscape at a pace that suits you.
Yes. Please see our policy on e-bikes and after booking please let us know if you will be riding an e-bike.
For reference and as a guide, our base on Dartmoor is 3 hours drive from the M25, 3 hours from the M42 around Birmingham and less than 2 hours from Bristol.
Apologies but we cannot offer free shuttles from rail stations on this weekend, as the logistics won't work! If you would like to travel by train, please contact us to arrange transport from Plymouth station.
Travel and arrival details will be sent to you 6 weeks before your holiday begins.
Dates
We are pleased to say that 2024 bookings are now in full swing! Click 'book' on the booking form to view the live number of spaces available for this trip.
Sorry we are not running a scheduled trip to this destination in 2024. Please get in touch if you would like us to arrange a private trip for your group. Or, why not sample the best of Dartmoor on our Exmoor, Dartmoor & Quantocks 4 dayer?